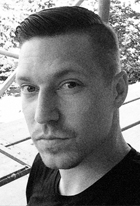 Nicolai Schlapps (Dipl.-Ing.)
Nicolai Schlapps is an architectural designer and researcher living in Berlin, Germany.
As a founding member of PINKCLOUD.DK his key qualifications are concept and strategy development. His research driven approach that combines varying disciplines and interconnects diverse fields leads to unique and unusual solutions. Believing in team work and by connecting the dots, his input enriches the work in all scales from architecture to urban planning, experimental designs to art. This strategy lead to a scholarship for his diploma project by the Helmut Hentrich Foundation and various winning projects for PINKCLOUD.DK, Henning Larsen Architects, Copenhagen and Barkow-Leibinger, Berlin.
Since 2016 Nicolai is holding a research and teaching position at the TU Braunschweig University of Technology at the IMD Institute of Media and Design focussing on information transformation processes and conceptual thinking.
"Information Based Concepts + Big Data in Architecture" puts the act of research, collection and connection of data to information and information graphics as the starting point of architectural projects that focus on concept development and strategic thinking.
"Information Transformation + Reverse Architecture" uses reverse engineering strategies and experimental concepts that oscillate between drawing and modelling, analog and digital, researching and field mapping to uncover and expose forces and energies that define, form and transform urban situations.
"Information Technology + Augmented Realities" uses computerional components, digital tools, the internet and multi-media installations as well as augmented reality goggles to inform space with real-time data to experimentally research the overlay, intersection and multiplication of physical space with the digital realm.
Research + Teaching

Information Based Concepts + Big Data in Architecture
• In.Form the Void | Berlin | 2017
• Info.Tecture | Berlin | 2017
• Transforming TXL | Berlin | 2017

• Connecting the Dots | Berlin | 2016

Information Transformation + Reverse Architecture

• Information Space | Berlin Hbf + Ostbahnhof | 2017
• Hybrid Processes | Berlin Infrastructure | 2016
• Enter the Void | Berlin Alexanderplatz + Kulturforum
 | 2015
Information Technology + Augmented Realities

• Augmented Realities | Microsoft HoloLens | 2018
• Cyber Space Modulators | Arduino + Processing
 | 2017
CV – University Research + Teaching

• Research Assistant IMD Institute of Media and Design | TU Braunschweig | since 2015

• Research Lecturer IMD Institute of Media and Design | TU Braunschweig | 2014-2015
• Student Tutor IEX Institute for Experimental Design | TU Braunschweig | 2012-2013

• Student Tutor IEB Institute for Building Design | TU Braunschweig | 2010-2012
• Student Tutor IMD Institute of Media and Design | TU Braunschweig | 2005-2010
CV – Offices

• PINKCLOUD.DK | Berlin, New York, Toronto | Founding Partner
 | since 2011
• B–L Barkow Leibinger | Berlin | Architect + Competition Architect
 | 2015-2016
• Freelance Competition Architect | Berlin | 2013-2015
• HL Henning Larsen | Copenhagen | Competition Architect

 | 2011
Keynotes

• SISU Symposium of Interior Architecture and Spatial Use – Naked Space | Lucerne Switzerland | 2017
• Hospitality.Next Symposium | Athens Greece | 2013


Prizes

• Helmut Hentrich Scholarship
 for Outstanding Final Year Projects 2013
• 1st Prize Radical Innovation in Hospitality 2013 (w/ PINKCLOUD.DK)